Jan 24, 2011
Today's Itunes feed word is Chionophobia
Show Notes.
Dorchester applies for city status.
The town's award winning Town Crier Alistair Chisholm.
Vincent Tabak has been charged.
How Chris Jefferies was vilified despite having done nothing wrong.
The Christian Institute and their patron saint Jude the Apostle.
The News in Haiku (classy hey?)
Alan Johnston quits
personal reasons, he says
I don't need to know.
Lord Strathclyde has affair
you don't know who he is,
I don't know either.
Cable declares war
and is removed, later
Pm dines Murdoch
Berlusconi may
have paid for it with a girl
pope says boy a free
The Star's racism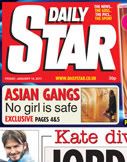 As it was said in the podcast we are away for about 5 weeks, I'm sure you can live without us, but you can still listen to older episodes on the website and please continue to tell your friends about us.
You can subscribe to the podcast either here (Podbean) or here (Itunes)